Napoli! The System, the Camorra and The Pizza: Breaking the Stereotypes
November 14 – 16, 2008
Infamous for its rough charm and organized crime, Napoli is also one of Italy's most culturally rich and sophisticated cities. In 2007, Roberto Saviano's sensational bestseller Gomorrah, an exposé indicting the brutality of the contemporary Neapolitan crime organization known as the Camorra, captured the attention of the whole country. Using Saviano's work as a point of departure, the festival will explore the dynamic and contradictory visions of Naples and the surrounding region of Campania. The opening night will feature Matteo Garrone's film adaptation of Gomorrah, which premiered at the 2008 Cannes Film Festival. Finally, Gomorrah author Roberto Saviano participated in a very special panel discussion about his work and the state of organized crime.
SCHEDULE OF SCREENINGS AND EVENTS:
FRIDAY, NOVEMBER 14TH – 7:30PM: Gomorrah (2008), directed by Matteo Garrone, 137 minutes.
Introduced by Los Angeles Times film critic Kenneth Turan. Followed by a Q&A with Gomorrah author Roberto Saviano, Kenneth Turan and Roma Film Fest artistic director Mario Sesti.
MAKE A RESERVATION
SATURDAY, NOVEMBER 15TH – 2:00PM: È Piccerella (1922), directed by Elvira Notari, 44 minutes.
With live musical accompaniment by silent film composer Michael Mortilla.
MAKE A RESERVATION
3:00PM: L'Oro di Napoli (1954), directed by Vittorio de Sica, 107 minutes.
The film will be screened from a DVD.
MAKE A RESERVATION
5:30PM: Morte di un Matematico Napoletano (1992), directed by Mario Martone, 108 minutes.
The film will be screened from a DVD.
MAKE A RESERVATION
8:00PM: Il Divo (2008), directed by Paolo Sorrentino, 110 minutes.
Introduced by Los Angeles Times film critic Kenneth Turan.
MAKE A RESERVATION
SUNDAY, NOVEMBER 16TH – 5:00PM: Panel discussion about organized crime with Gomorrah author Roberto Saviano, retired LAPD Detective Jerry Mastrangelo and a representative from the FBI. Moderated by film critic and SCA Professor Leonard Maltin.
MAKE A RESERVATION
6:00PM: Catered reception provided by Neapolitan Chef Laszlo Barbo and Baronessa Cecilia Bellilli Baratta outside the theater in Queen's Courtyard, featuring traditional Neapolitan cuisine and pizza. Thanks to Piccolo Chef for providing the use of their kitchen.
MAKE A RESERVATION
7:00PM: Performance of Stravinsky's Suite Italienne by members of the Los Angeles Chamber Orchestra.
MAKE A RESERVATION
8:00PM: Le Mani Sulla Citta' (1963), directed by Francesco Rosi, 105 minutes.
The film will be screened from a DVD.
MAKE A RESERVATION
ABOUT THE FILMS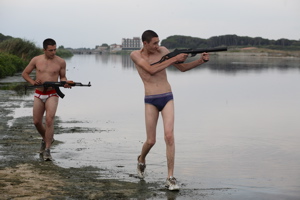 Gomorrah (2008), directed by Matteo Garrone, 137 minutes – Power, money and blood: these are the values that the residents of the province of Naples and Caserta confront every day. They have practically no choice, and are forced to obey the rules of the "System," the Camorra. Only a lucky few can even think of leading a normal life. Five stories are woven together in this violent scenario, set in a cruel and ostensibly invented world, but one that is deeply rooted in reality. Winner of the Grand Prize at the 2008 Cannes Film Festival.
È Piccerella (1922), directed by Elvira Notari, 44 minutes – A young man, Tore, attempts to win over the beautiful Margaretella with expensive presents, prompting him to steal his own mother's jewels. Margaretella meanwhile prefers the affections of Carluccio, which challenges Tore to a duel. È Piccerella is a silent film from Naples directed by one of the silent era's only female filmmakers, Elvira Notari. Presented with live musical accompaniment.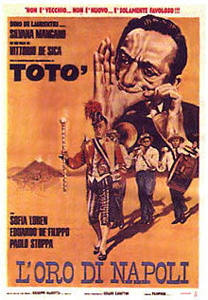 L'Oro di Napoli (The Gold of Naples, 1954), directed by Vittorio de Sica, 107 minutes – Mount Vesuvius broods over four stories set in De Sica's beloved Naples. The reluctant host (Toto') of a bullying gangster takes a stand; an earthy pizza-vending goddess (Sophia Loren) convinces her husband that she lost an emerald ring in her pizza dough, not during a lovers' tryst; a dapper count (Vittorio De Sica) in thrall to a gambling addiction is reduced to playing cards with his concierge's small son; and a beautiful prostitute gratefully consents to a marriage with a handsome stranger. A masterpiece by one of Italy's most revered filmmakers.
Morte di un Matematico Napoletano (Death of a Neapolitan Mathmetician, 1992), directed by Mario Martone, 108 minutes – The story professor Renato Caccioppoli, a disillusioned and tormented mathematician, as he spends the final days of his life in Naples. Abbandoned by his wife, alienated by his colleagues and fellow communist party members, Caccioppoli lives in disenchanted solitude, until his final act: suicide.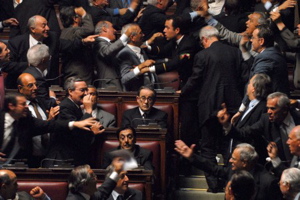 Il Divo (2008), directed by Paolo Sorrentino, 110 minutes – In Rome, at dawn, when everyone is sleeping, one man is awake. He's awake because he has to work, write books, move in fashionable circles and last, but not least, pray. Calm, crafty and inscrutable, Giulio Andreotti (Toni Servillo) has been a synonym for power in Italy for over four decades. At the beginning of the Nineties, this ambiguous yet reassuring figure appears set to assume his seventh mandate as Prime Minister without arrogance and without humility. Approaching seventy, Andreotti is a gerontocrat who, with all the attributes of God, is afraid of no one and does not know the meaning of awe, since he is accustomed to seeing it stamped on the faces of all his interlocutors. Unwavering and immutable from the outset, he emerges unscathed from everything: electoral battles, terrorist massacres, slanderous accusations. Until the strongest counter power in Italy, the Mafia, declares war on him. Winner of the Jury Prize at the 2008 Cannes Film Festival.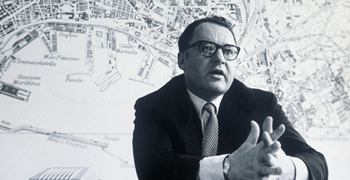 Le Mani Sulla Citta' (Hands Over the City, 1963), directed by Francesco Rosi, 105 minutes – Rod Steiger is ferocious as a scheming land developer in Francesco Rosi's Hands Over the City, a blistering work of social realism and the winner of the 1963 Venice Film Festival Golden Lion. This exposé of the politically driven real-estate speculation that has devastated Naples's civilian landscape moves breathlessly from a cataclysmic building collapse to the backroom negotiations of civic leaders vying for power in a city council election, laying bare the inner workings of corruption with passion and outrage.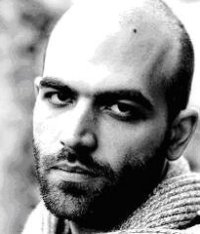 ABOUT ROBERTO SAVIANO, AUTHOR OF GOMORRAH – ROBERTO SAVIANO has a degree in Philosophy from the University of Naples, "Federico II". He collaborates as a journalist with L'espresso and La Repubblica. He uses a combination of literary and journalistic styles to report on reality. After publishing the hugely successful non-fiction novel Gomorrah, which strongly denounced the illicit activities of the Camorra, the Neapolitan criminal organization that has been in power in Campagnia for decades, Saviano became the subject of death threats directly from the Mafia. Following investigations into the matter by Neapolitan police, Saviano has been living under police escort since the 13th of October 2006.
ABOUT THE GUESTS
LASZLO BARBO was born in Naples, Italy and grew up in Rome. He learned the secrets of Mediterranean cusine in the restaurants his family owned in Rome. Since moving to Los Angeles in 2007, he has been working as a chef for many clients in LA, Santa Barbara and Montecito, bringing a taste of real Italian flavour to his clients' homes. Laszlo Barbo's cooking style has deep roots in the Italian tradition even if he is always ready to experiment and create new combinations and sensations.
BARONESSA CECILIA BELLILLI BARATTA inherited her farm estates more than thirty years ago, from her husband, whose Eighteenth Century ancestor was given the title Barone because he was a horse breeder to the King of Naples. Cecilia continues to breed and train Persano show horses in addition to water buffalo. Educated in both France and Italy, and fluent in English, Cecilia's own family was prominent in the local food packing and export business. Her two agriturismi, the word Italians use for working farm-inns, are highly recommended by Rick Steves, Karen Brown and many other guidebooks. She and the farms have been featured on Italian television, and on the Food Network in the United States.
LEONARD MALTIN is one of the country's most recognized film critics and historians. He has written many books, and edits the annual paperback reference Leonard Maltin's Movie Guide, along with its companion volume Leonard Maltin's Classic Movie Guide. He is now in his 25th year with Entertainment Tonight, hosts the weekly show Secret's Out on ReelzChannel, and introduces movies on DirecTV. He also hosts and co-produces the Walt Disney Treasures DVD series. He teaches at the USC School of Cinematic Arts, and last year was appointed by the Librarian of Congress to the Board of Directors of the National Film Preservation Foundation.
DETECTIVE JERRY MASTRANGELO is newly retired from the Los Angeles Police Department, where he was active in Organized Crime Investigations and was a talented detective with a plethora of undercover investigative experience. He was born in a tiny town right outside of Naples.
MICHAEL D. MORTILLA has composed well over 600 produced scores for theater, film, dance and the concert hall. His commissions include multiple scores for The Chicago Symphony, with whom he has also been a soloist, as well as The Academy of Motion Picture Arts & Sciences, The Olympic Games Arts Festival, The Getty Center, The Martha Graham Dance Company and many others. His score to Charlie Chaplin's The Rink accompanied the world's first broadcast of a feature film over the internet by The American Film Institute. Michael composed and designed sound for the recently released feature film version of Dalton Trumbo's classic Johnny Got His Gun.
MARIO SESTI is a journalist and film critic who writes for "La Repubblica" and "Ciak", in addition to serving as one of the Artistic Directors of CINEMA – Festa Internazionale di Roma and directing documentary films. For thirteen years he wrote for the weekly magazine "Espresso" and has written books on Nanni Moretti, Nuovo Cinema Italiano, Italian detective films and Pietro Germi (Tutto il cinema di Pietro Germi, published by Baldini e Castoldi, awarded the Diego Fabbri 'best book on cinema of the year' in 1987). In 2006, his book In quel film c'è un segreto, published by Feltrinelli, received the Fabbri award as well. His documentaries have been presented at film festivals in Cannes, Locarno and Turin, in museums such as MoMA and Guggenheim New York and Princeton University. In 2003, his film on the lost ending of Fellini's 8 ½ (L'ultima sequenza) was included in the official selection of the Cannes Film Festival. From 1998 to 2000, he was in charge of CINEMA FOREVER, developing, among the others, the restoration of Un maledetto imbroglio, La dolce vita, 8 ½, Umberto D., I vitelloni, and Lo sceicco bianco.
KENNETH TURAN is a film critic for the Los Angeles Times and National Public Radio's Morning Edition as well as the director of the Los Angeles Times Book Prizes. He has been a staff writer for the Washington Post and TV Guide and the Times' book review editor. A graduate of Swarthmore College and Columbia University's Graduate School of Journalism, he is the co-author of Call Me Anna: The Autobiography of Patty Duke. He teaches film reviewing and non-fiction writing at USC and is on the board of directors of the National Yiddish Book Center. His most recent books are the University of California Press' Sundance to Sarajevo: Film Festivals and the World They Made as well as Never Coming To A Theater Near You and Now In Theaters Everywhere, both published by PublicAffairs.
ABOUT THE LOS ANGELES CHAMBER ORCHESTRA – The Los Angeles Chamber Orchestra was founded in 1968 as an artistic outlet for the film and recording studios' most gifted musicians. Since then, the 40-member Orchestra has gained a reputation for both virtuosic music-making and dynamic programming. The Orchestra performs repertoire ranging from Baroque masterpieces to new works commissioned annually by its Sound Investment program and is recognized for championing young artists on the brink of major careers, as well as working with some of today's leading artists. Renowned pianist and conductor Jeffrey Kahane has led the group since 1997.
The Los Angeles Chamber Orchestra maintains its local presence with an annual home season of 15 concerts at two historic theaters, the Alex Theatre in Glendale and UCLA's Royce Hall; its acclaimed Baroque Conversations series at Zipper Concert Hall; and a series of three family concerts at the Alex Theatre. In April 2002, the Orchestra was invited to play in Carnegie Hall's Chamber Music series, under the direction of Jeffrey Kahane. The Orchestra had previously toured South America, Europe and Japan. In early 2008, the Orchestra will embark on a two-week, five-country tour with concerts in Paris, Berlin, Vienna and other great European capitals.
The Los Angeles Chamber Orchestra believes that classical music is a joy to be shared by everyone. Through its Meet the Music program, the Orchestra reaches thousands of elementary school students, most of whom have never experienced a classical concert before, and through Neighborhood Concerts, LACO creates opportunities for new and underserved audiences to develop a love for orchestral music and performance.
ABOUT CHECK-IN & RESERVATIONS – All screenings are presented free of charge and are open to all. The theater will be OVERBOOKED to ensure capacity and the RSVP lists will be honored on a first-come, first-serve basis, with no reserved seating. Please bring a photo ID or print out of your reservation confirmation, which will be automatically sent to your e-mail account upon successfully making an RSVP through the website.
ABOUT PARKING – The USC School of Cinematic Arts is located at 850 W. 34th St., Los Angeles, CA 90007. Parking passes may be purchased for $8.00 at USC Entrance Gate #5, located at the intersection of W. Jefferson Blvd. & McClintock Avenue. We recommend parking in outdoor Lot M or V, or Parking Structure D, at the far end of 34th Street. Please note that Parking Structure D cannot accommodate tall vehicles such as SUVs. Street parking is also available along W. Jefferson Boulevard (meters are free after 6:00PM on Saturday and are free all day on Sunday).
For a map of the USC campus (Norris Cinema Theatre, NCT, is N.10 in blue), please access the following website: http://www.usc.edu/assets/maps/upc_map.pdf
ABOUT THE ORGANIZERS – Organized by the USC School of Cinematic Arts and Azzurra, in collaboration with the Cinema Rome Film Festival, Los Angeles Chamber Orchestra, Centro Sperimentale di Cinematografia-Cineteca Nazionale, and The George Graziadio Center of Italian Studies, California State University, Long Beach.
Alessandro Francesco Ago is the Special Events Coordinator for the USC School of Cinematic Arts, where he completed his B.A. and M.A. degrees in critical studies ('00, '05). He has taught "Filmmaking, Italian Style" and "Transnational Nightmares", two critical studies/production hybrids for the SCA summer program. Ago coordinates many of the SCA/Visions & Voices film festivals, including the recent John Wayne centennial tribute and the ongoing Metropolitan Opera Live in HD series, in addition to the SCA Alumni Screening Series and many other special events. To learn more about upcoming events at the USC School of Cinematic Arts that are free and open to the public, visit: http://cinema.usc.edu/events
Azzurra is a non-profit organization founded in Los Angeles in 2006 for the purpose of preserving and promoting the study of the Italian language and culture throughout Southern California. The foundation receives grants from the government of Italy in support of its mission and, as such, operates under the supervision of the Education Office of the Consulate General of Italy in Los Angeles.
For more information about upcoming programming and events offered by Visions and Voices: The USC Arts & Humanities Initiative, please visit their website.
Contact Information:
Alessandro Ago
213.740.2330
aago@cinema.usc.edu